Designed for custom contracts and usage-based pricing
Quote to Revenue, streamlined
Custom pricing shouldn't slow down your revenue operations. B2B companies of all sizes use Sequence to scale pricing, billing and invoicing workflows.
Acme Ltd
179 West Avenue
Ravendale, OH
88871
sam@acme.co
Products
| | |
| --- | --- |
| | $7,450.00 / Annually |
| | $1,000.00 / Monthly |
| | $2.00 / Monthly |
| | $0.1 / Event |
| | €2.00 / Monthly |

Head of Finance
Sarah Paulson approved this quote
Backed by leading investors and Unicorn founders
Get control of your revenue collection
Made for software companies with custom contracts and hybrid pricing
Translate commercial terms from quotes or contracts into automated billing schedules. Include discounts, minimums, credit grants and more. Create a source of truth for products and pricing using the product catalogue.
Recent products
| | |
| --- | --- |
| | €0.15 / Monthly |
| | €400.00 / One-time |
| | €2.00 / Monthly |
| | €4.00 / One-time |
| | €2.00 / Monthly |

Head of Finance
I'd suggest reducing the implementation fee to €200
Tier
First unit
Last unit
Per unit
Flat fee
1
1
100
£0.50
£

0

2
101
100
£0.70
£

0

3

201

£

0

£

0
Work 10x faster, lower the costs
Sequence gives you a flexible toolkit to scale your revenue infrastructure, without building everything in house.
Status
Created
Jun 4
Aug 4
Sep 22
Jun 4
Aug 4
Sep 22
Aug 4
Sep 22
Capture product pricing in a database
Turn quotes, price and customer usage into data that you can search, filter and sync with your data warehouse.
Use a standard pricing template. Suitable for self-serve and PLG pricing
Create a billing schedule for a custom contract with unique terms.
Launch usage based subscriptions and custom pricing
Translate pricing into billing schedules, branded invoices and payment collection. Adapt billing to your business model, not the other way round.
Create rules and workflows to automate work
From approvals and feature entitlements to renewals and usage alerts. Leverage every data record to power automations in your business.
Revenue Insights Template
Get powerful reporting and data feeds
Export receivables, usage and billing data to your data warehouse or sync with Google Sheets in real-time.
Loved by ambitious teams at every stage
Whether you're introducing new pricing, scaling your revenue operations or consolidating your software stack, Sequence works for you.
"With our company and client base growing quickly, we partnered with Sequence to help us automate our invoicing process. It was great to work with a team that took the time to properly understand our complex invoicing requirements. In a short timeframe, Sequence were able to design a bespoke solution for us that we understood and trusted. By delving into our main billing pain points, the platform they created for us was much superior to any other that we could find on the market. An extremely impressive team and product that I can see going far in this industry!"
Annabel Jenney
Financial Operations Manager, Accurx
"Sequence has one of the most impressive platforms for billing and RevOps that we've seen: it's clear the platform can save significant time and effort in the quote-to-cash process for companies (like Yapily) which have complex pricing and usage models. It was a pleasure to work with the Sequence team, who are very knowledgeable, flexible, and responsive."
Owen Price
Head of Strategy, Yapily
"Moving our billing and pricing to Sequence really helped us bring more automation into our month-end billing runs, saving our team's time and ensuring the accuracy of complex pricing without manual processes. The Sequence team is really helpful and quickly built several features we suggested. The clean, branded invoices are a nice touch for our customers too!"
Chris Mulligan
Founder/CEO, Konfir
Your Source of Truth for Revenue Data
One platform to run every revenue workflow, from contract close to revenue recognition.
Payments & Reconciliation
Unified Revenue Database
Single source of truth for product, pricing and usage data.
Build your revenue collection stack in days
Launch a fully integrated workflow and upgrade your manual process.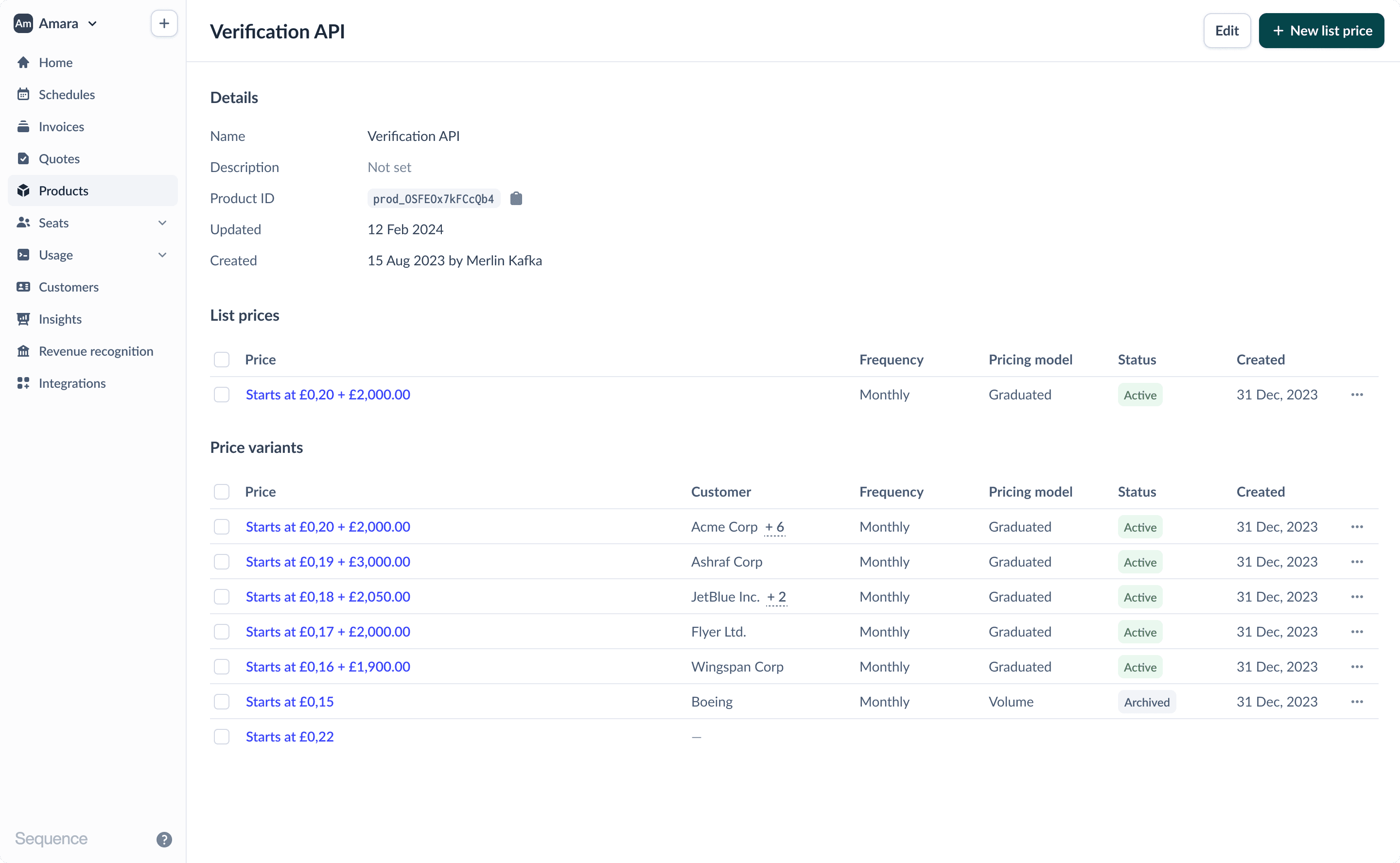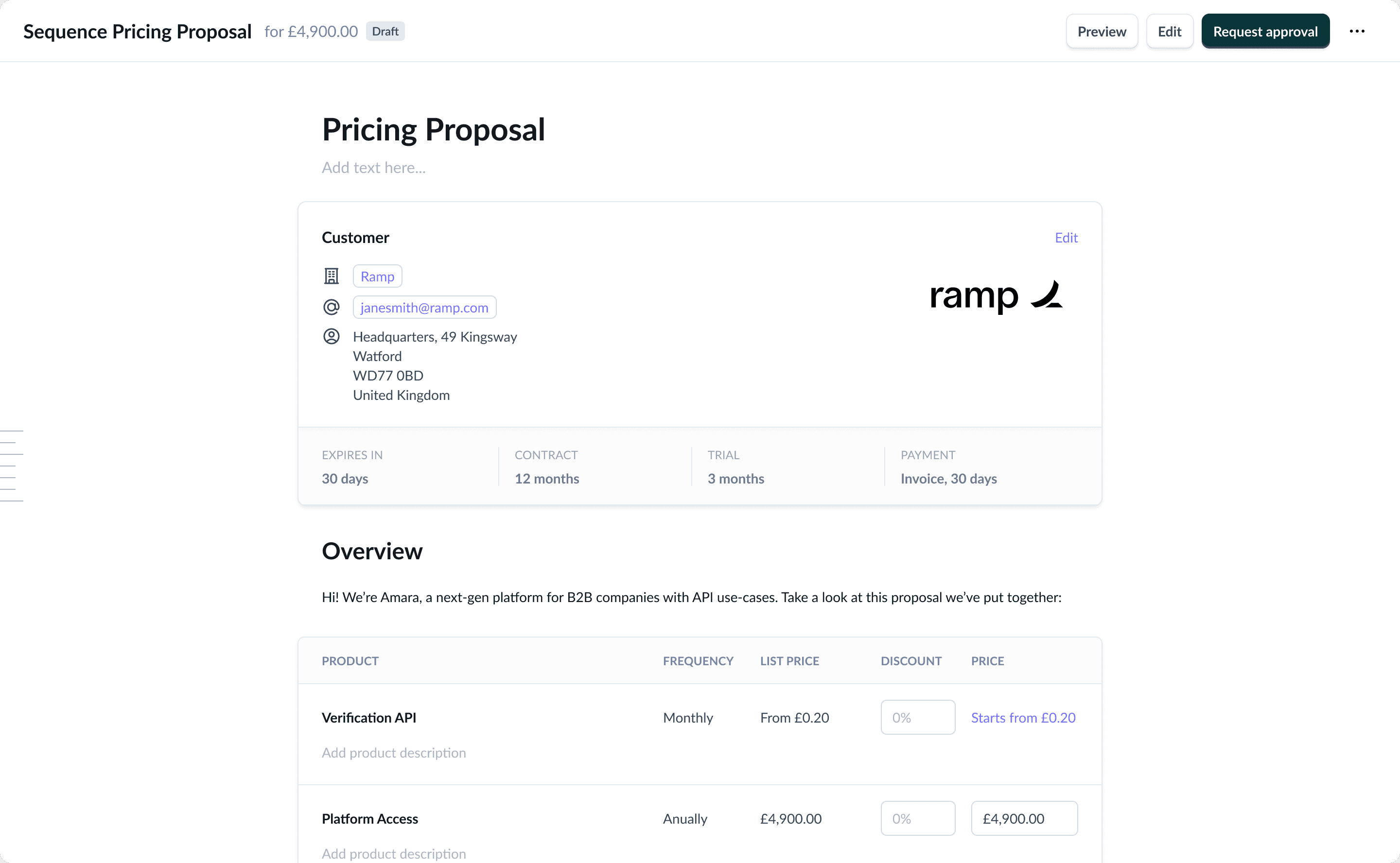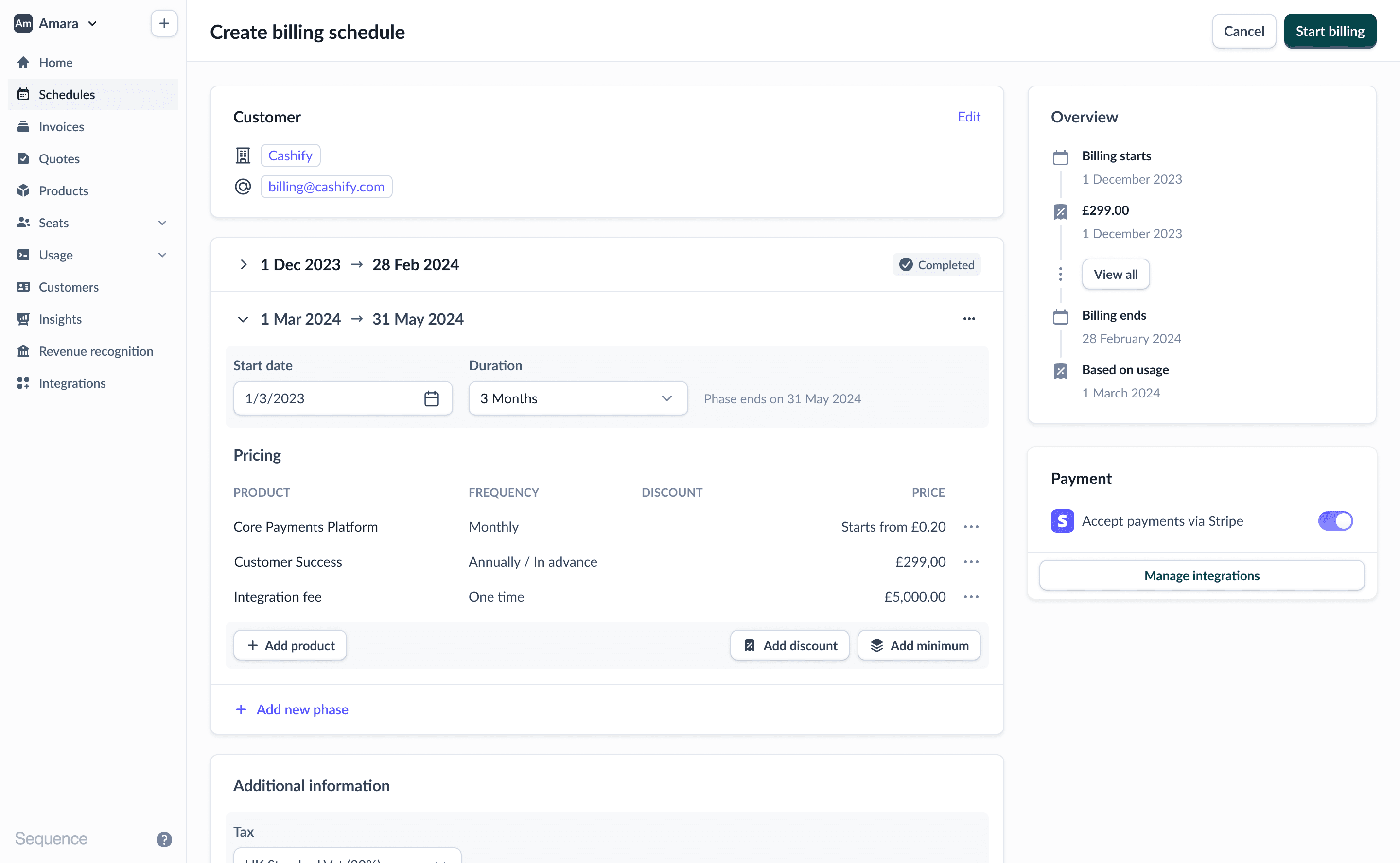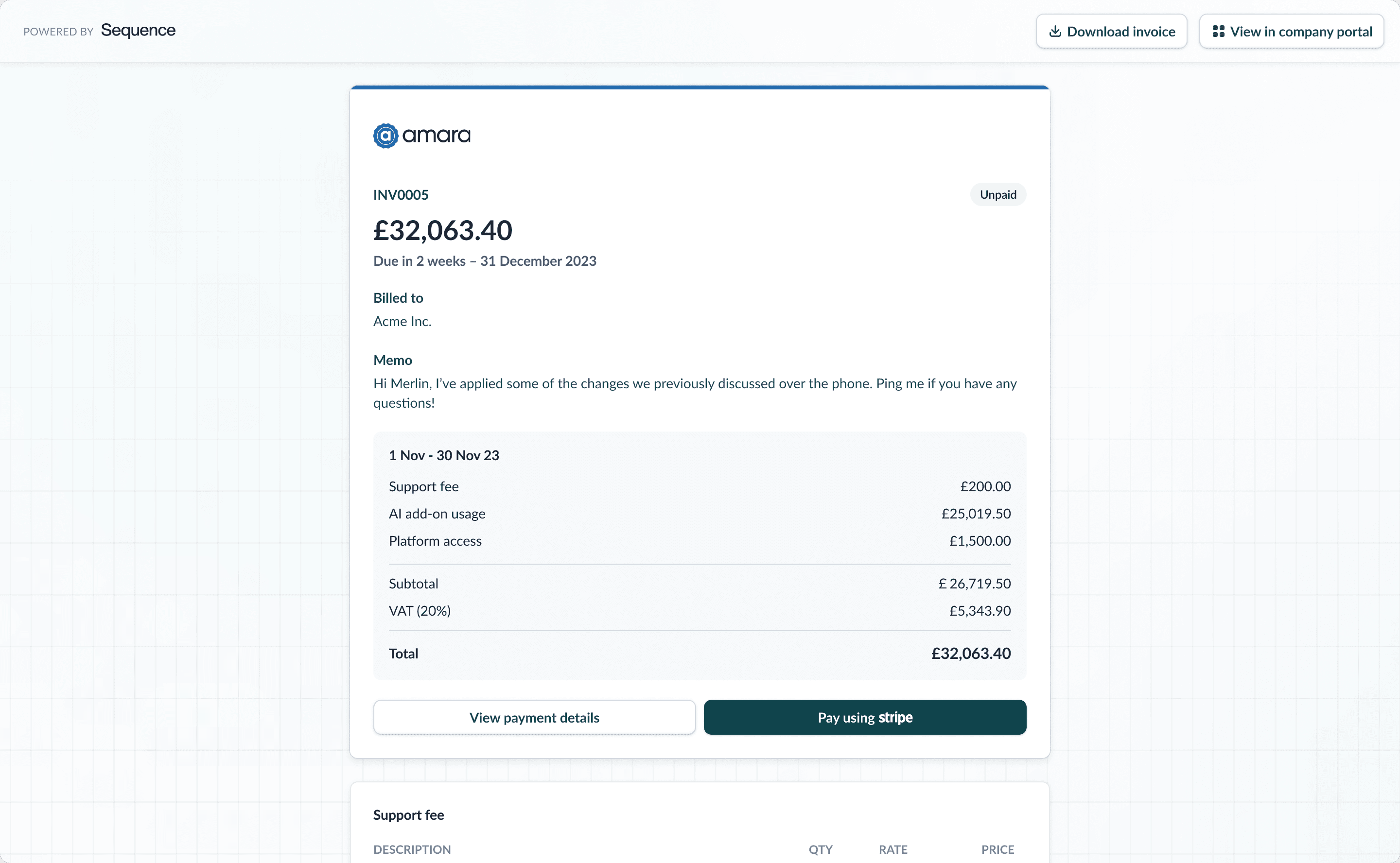 Designed for modern teams
Consumer grade experience, enterprise level security
Experience unmatched tools that make every task feel like a breeze.
Recent products
| | |
| --- | --- |
| | €0.15 / Monthly |
| | €400.00 / One-time |
| | €2.00 / Monthly |
| | €4.00 / One-time |
| | €2.00 / Monthly |
At your command
Search quickly for contracts, invoices and transactions.
Enterprise Grade Security
SOC 2 and ISO 27001 certified.
Integrate
Sequence connects with your product and the tools used by your teams.
Recipient
Shape Software Ltd
225 Oscar Drive
New York City, NY
55458
Summary
Total usage excluding VAT
$500.00
Custom templates
Delight customers with invoices that match your brand.
| | | |
| --- | --- | --- |
| | | INV001 |
| | | INV002 |
| | | INV0091 |
| | | INV0091 |
| | | INV002 |
Bulk actions
Clear your billing backlog and automate busy work.
From Inception to IPO
Pay-as-you-go from $25 per active customer.